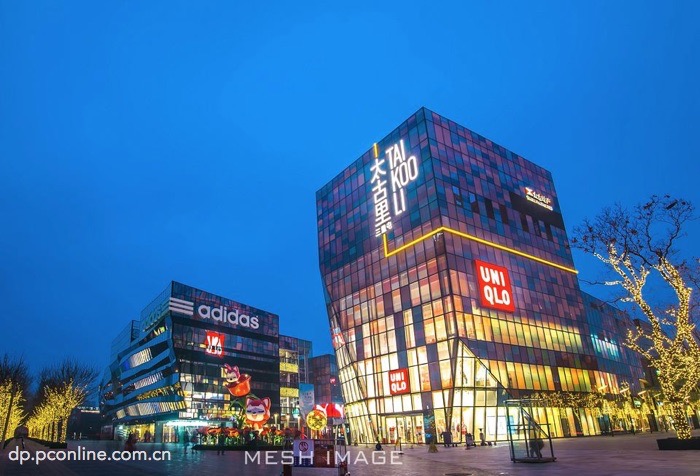 Tai Koo Li Sanlitun is an open shopping area, which is made up of 19 low density contemporary buildings. The whole project is divided into two regions in the South and the north, which not only merge in the same area with the surrounding buildings, but also maintain their relative independence.
Tai Koo Li Sanlitun itself represents a kind of humanistic fashion, everything here is centered on people. Here, people can enjoy
food
,
shopping
and
leisure
, and at the same time, people can create art and lead fashion.
Tai Koo Li Sanlitun
leads a unique life philosophy and culture, it brings
an unparalleled trend experience
to people.
Tai Koo Li Sanlitun is the first comprehensive commercial real estate project launched by Swire Properties in mainland China. Swire Properties has accumulated over 40 years of design, development, and management experiences in retail, commercial real estate and residential real estate in Hongkong. Its brand itself represents the concept of excellence. It aims to create long-term value and quality experience for tenants, customers and employees.
Swire Properties never replicated commercial projects, but gave each project its own personality and characteristics, with its own genes. For a commercial project that hopes to continue the unique cultural atmosphere of Sanlitun area, Tai Koo Li Sanlitun is undoubtedly inherited the cultural essence of the region, showing an unparalleled fashion style.
Tai Koo Li Sanlitun and the hotel in the project "
The Opposite House
" are all wholly owned and managed by Swire Properties.
Tai Koo Li Sanlitun is located at the junction of Gongti North Road and Sanlitun Road of Chaoyang District, Beijing. The project covers an area of 53 thousand square meters, the building area is 172 thousand square meters.
Tai Koo Li Sanlitun was positioned as
a comprehensive recreational area
. It includes
the world's first and second line famous brand flagship stores
,
national cuisines
and
the distinctive five-star boutique hotels
.
The predecessor of Tai Koo Li Sanlitun was the Western area of Sanlitun Bar street. As the core of Beijing embassy zone, over the past decade or so, the area of Tai Koo Li Sanlitun has always been a gathering place for all kinds of
Chinese and foreign bars and restaurants
, it attracts artists, literatus and tourists from all sides. After reconstruction, Tai Koo Li Sanlitun was transformed into an integration of fashion, shopping, music, business and art all around the world. Now, Sanlitun has become a fashion landmark and modern urban tourist attraction in Beijing, attracting Chinese and foreign tourists.
Atmosphere:
In Tai Koo Li Sanlitun, art is flowing and all over the streets and lanes here, it always appears inadvertently in details. When you walk through an alley, you may find that the sculptor is waving a knife, or the street painter is smiling to open the Sketchpad to you;
on the rink
, children are laughing and chasing,
the variable fountain
, and the shadow of that pair of dependent figures passing by you…when you immerse yourself in it, you have already integrated into the artistic atmosphere of Sanlitun.
In August 2015, in the North area of Tai Koo Li Sanlitun, a new contemporary cultural voice platform was built up, it is called
THE RED
, it is a multi-functional space for culture, fashion, creativity, lifestyle and so on.
The venue of THE RED hall is divided into two floors, covers an area of 1,000 square meters with an atrium at 7.5 meters high. Such layout can let the exhibition planner make better use of creativity, and also can let audiences have a more profound viewing experience. There is a terrace on the 2nd floor of each side, the South and the north, people can see the fashionable crowds inside and outside THE RED house, it's a great place to feel the culture of Sanlitun neighborhoods. Since its opening in 2015, THE RED hall has successfully organized dozens of activities such as culture, art, music, creativity, fitness etc.
It is no doubt that Tai Koo Li Sanlitun will still be the fashion vane of Beijing in the future.